Hotel achieves 5-star nabers energy rating & environmental award
Hotel achieves 5-star nabers energy rating & environmental award
Confidential client
A 4.5-star hotel engaged HFM to review the current condition of their building.
As part of the project, the central chiller was replaced, room HVAC was refurbished, BMS was upgraded, asset management and maintenance systems were updated and training was provided to the hotel personnel on key topics such as energy conservation, demand management and maintenance management.
Key results include a 5.0-Energy NABERS Rating, a 4.5-Water NABERS Rating and an environmental practice award.
PLANNING & IMPLEMENTATION
HFM were engaged by the owner prior to the redevelopment of the hotel.
Deployment of an Asset Management and Maintenance Systems to manage all the major assets and plant and equipment at the site.
Review of current condition of accommodation rooms AC systems and fan coil units including air balance.
Refurbishment of the two primary AHU units for the accommodation rooms, including coil replacement.
Upgrading of the hotels Building Management System (BMS).
Replacement of the central chillers and associated controls pumps etc.
Provision of training to hotel personnel on:

Maintenance management
Energy conservation
Demand Management
COSTS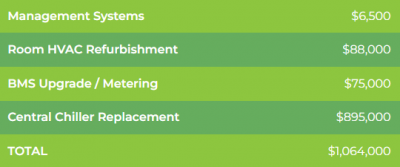 Achieved a 37% reduction in whole of site electricity consumption between 2014 and 2015, and a reduction in expenditure $161,126.
Achieved a 27.1% reduction in whole of site gas consumption between 2014 and 2015, and a reduction in expenditure $23,881.
Achieved a 23% reduction in whole of site water consumption between 2014 and 2015, and a reduction in expenditure $19,865.
Return on Investment -19.1%.
Achieved a 5.0-star NABERS Energy Rating.
Achieved a 4.5-star NABERS Water Rating.
Environmental Practice Award winner.
Additionally, the Electricity Procurement, Gas Procurement and Demand Side Management Services provided by HFM helped the hotel achieve further costrelated savings.
The hotel was constructed 35 years ago and has undergone several refurbishments since.
PERFORMANCE MANAGEMENT STRATEGY
HFM was responsible for carrying out a technical review of all plant and equipment and management systems of the hotel. This identified a range of measures for improving the hotels performance primarily initially by improving the hotels HVAC maintenance practices, air conditioning, cleaning of AHU systems which had been poorly maintenance for some 25 years.
The installation of systems to allow for monitoring and energy management on an ongoing basis including sub metering and an upgrade of the existing BMS system, and the installation of a new Central chilled water system which was at end of life.
Mechanical
Expanded the capability of the existing BMS.
Installation of new central chilled water system – Power Pax.
Installed sub-metering for performance management purposes to allow energy consumed within the site to be better accounted for. This metering system was strategically separated from the scope of the central plant BMS to facilitate an independent data capture platform for performance management of the mechanical plant and hot water systems.
The property was required to operate as an ongoing concern throughout the refurbishment phase of the project.
Improvement of NABERS Rating from 2-Star (pre-project), to 5-Star NABERS Energy Rating (post-project).
3-star NABERS Water Rating (pre-project) to 4.5-star NABERS Water Rating.
Best Environmental Practice Award Australian Hotels Association